The National Commission for Safai Karamcharis takes action to protect sanitation workers from workplace surveillance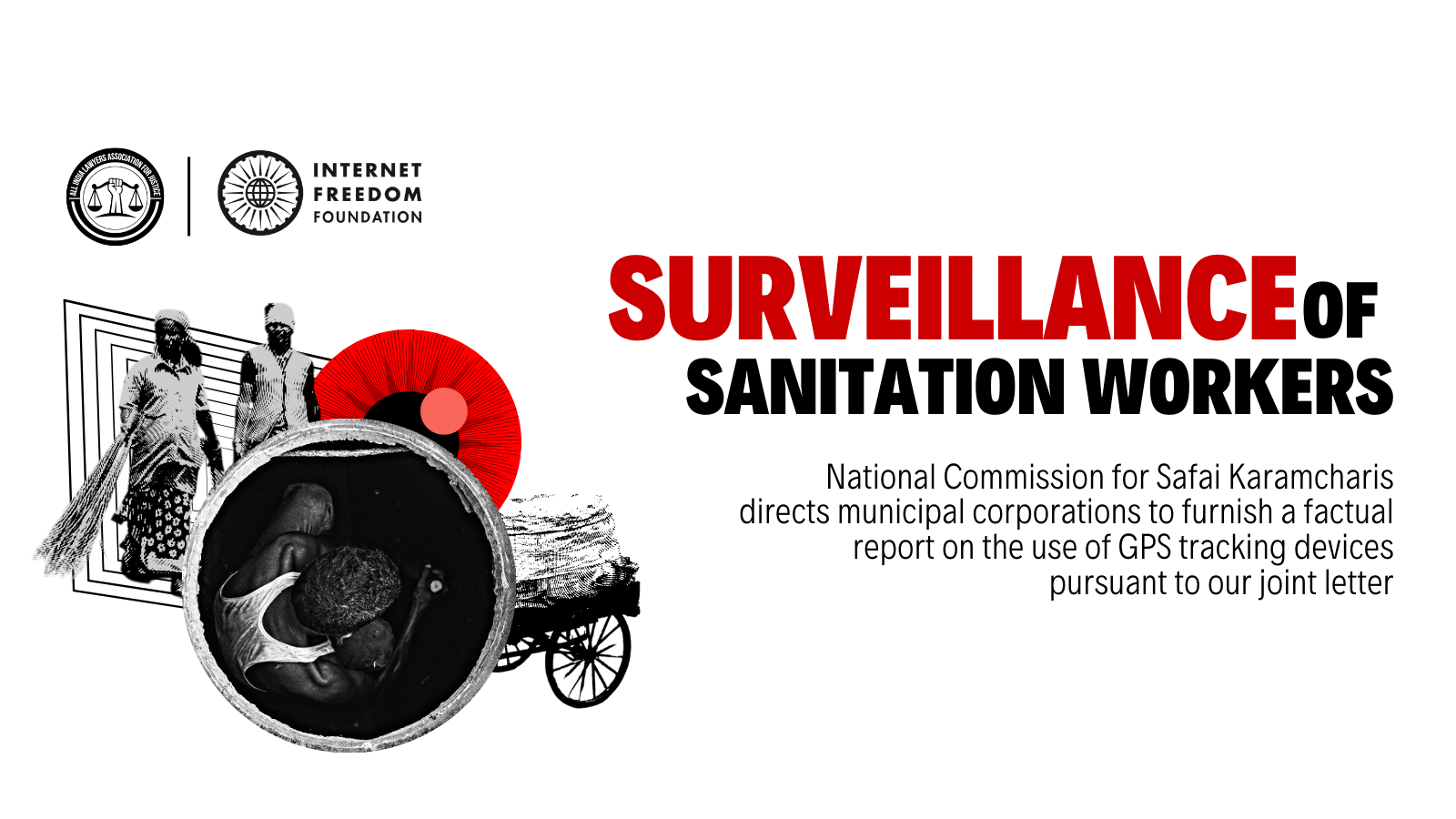 tl;dr
In a significant step, the National Commission for Safai Karamcharis (NCSK) has directed four municipal corporations using GPS tracking devices on sanitation workers to furnish a factual report to them. This step was taken pursuant to our joint letter with All India Lawyers Association For Justice (AILAJ) to the NCSK in which had raised concerns about the increasing surveillance of sanitation workers.
Why should you care?
Workplace surveillance has been on the rise since the early days of the pandemic. The use of such GPS tracking devices violates the right to life, dignity, and privacy of sanitation workers. It is essential to take steps against the normalisation of workplace surveillance to ensure that workers, especially those who do not have the power to fight back effectively, are not being exploited.
Background
After reports concerning the use of GPS tracking devices on Safai Karamcharis by the Ranchi Municipal Corporation came to light, the All India Lawyers Association For Justice (AILAJ) reached out to us to initiate a joint letter to express concerns over such violations. We sent a joint letter dated May 30, 2022 to the National Commission for Safai Karamcharis (NCSK) to urge them to investigate this issue and to take the necessary steps to ensure that all Safai Karamcharis are safeguarded from this imposition. The joint letter received endorsements by 18 organisations and 187 individuals. However, we did not receive any response from NCSK on the joint letter. As a result, we sent a letter to follow-up on our joint letter on August 8, 2022.
NCSK's response
On September 13, 2022, we received a response from NCSK. In their response, NCSK has asked the Commissioners of the Municipal Corporations of Ranchi, Chandigarh, Ghaziabad, and Nagpur to look into the concerns raised in the joint letter. Further, they have also requested the Commissioners to furnish a factual report regarding the concerns urgently.

We are grateful to NCSK for taking this step as it was a part of the recommendations in our joint letter for the Commission to register a complaint on the basis of the concerns raised therein, seek for reports from concerned authorities, investigate into the specific grievance raised by us and pass necessary instructions to concerned authorities to immediately stop the practice of tracking and surveillance of sanitation workers. We hope the Municipal Corporations cooperate with the Commission to ensure that no further rights violations occur.
In our joint letter, we had also urged the Commission to study, evaluate, and make a detailed report to the Union/State Governments on the physical and/or mental trauma, harassment, and other difficulties faced by sanitation workers on account of the imposition of tracking and surveillance. We further recommended that the sanitation workers be adequately compensated. We hope that the Commission will also heed these recommendations and continue to take steps to protect the rights of sanitation workers. We will continue to monitor this issue and the steps taken by all the concerned stakeholders.
Important documents
Response received from NCSK dated September 13, 2022 (link)
Letter seeking update on the joint letter to NCSK dated August 8, 2022 (link)
Joint letter expressing concern over the increasing surveillance of Safai Karamcharis in the country to the National Commission for Safai Karamcharis dated May 30, 2022 sent on June 1, 2022 (link)