Supreme Court directs WhatsApp to allow users to continue using WhatsApp without accepting its 2021 Privacy Policy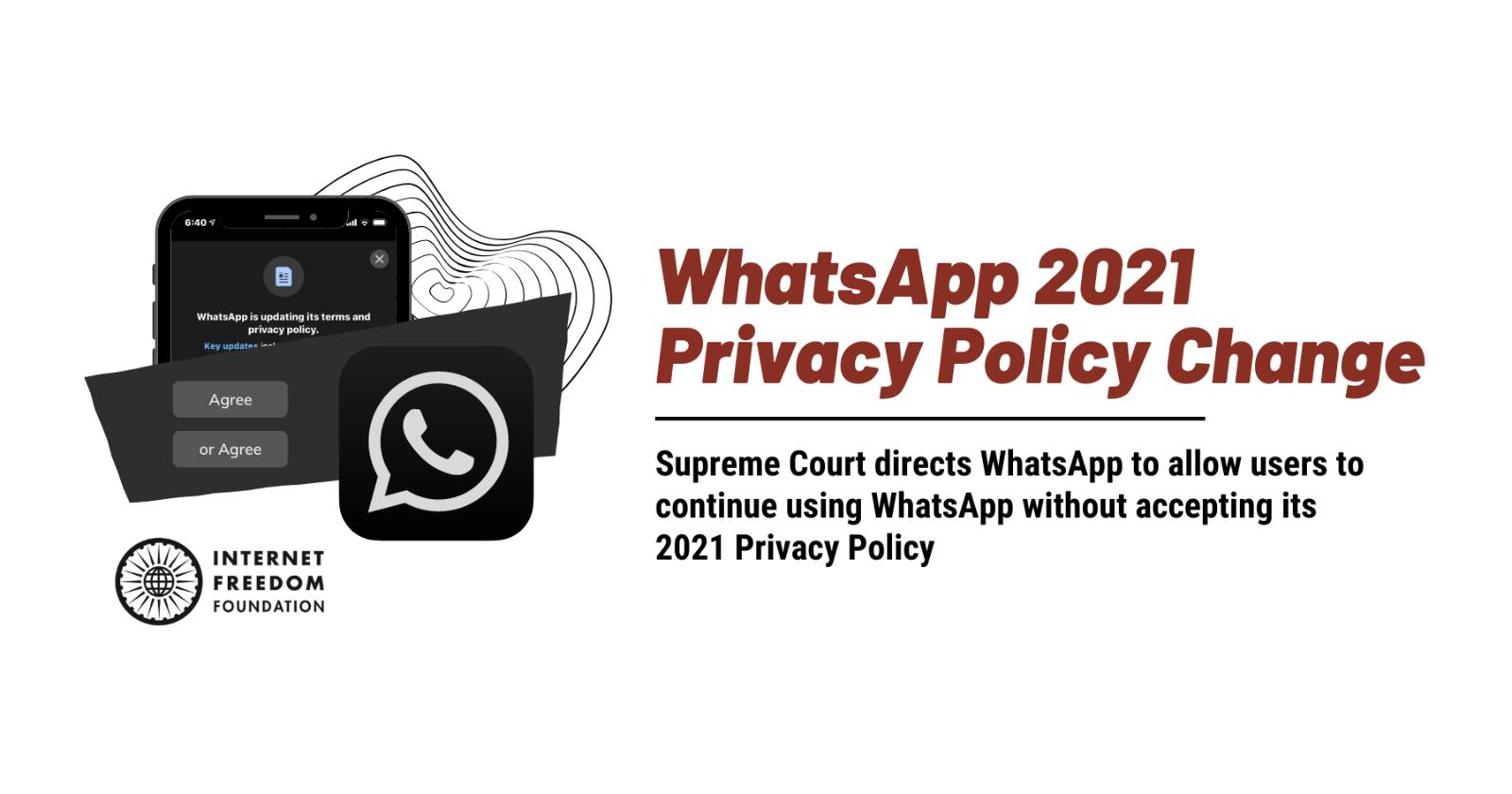 Tl;dr
WhatsApp's 2016 privacy policy has been the subject of a long standing Court challenge before the Delhi High Court, then the Supreme Court, and now a 5-judge Constitution Bench of the Supreme Court of India led by Justice K. M. Joseph. WhatsApp has since updated this policy in 2021, which is also the subject of challenge in the present proceedings. IFF is an intervenor in these proceedings, which have now come up for final arguments, where time has been provided for the Digital Personal Data Protection Bill, 2022 to be taken up in the budget session of the Parliament. However, in the interim, the Supreme Court has directed that users who have not yet accepted the privacy policy may continue to use WhatsApp without fear of their accounts being terminated under WhatsApp's take-it-or-leave-it approach to the 2021 policy.

Background
In January 2021, WhatsApp released an in-app notification forcing users to accept its revised privacy policy by February 8, 2021 or stop using its service entirely. The new privacy policy confirms that Facebook may now have access to messages shared with businesses on WhatsApp and it provides more insight into expansive meta data collection by WhatsApp. These changes to WhatsApp's privacy policy cement the status quo which has existed since the privacy policy was first updated in 2016. The changes to WhatsApp's privacy policy in 2016, and then in 2021, became the subject of pending litigation before the Supreme Court of India in Karmanya Singh Sareen v. Union of India, where IFF is an intervenor.
During the course of hearings before the Supreme Court in Karmanya Singh Sareen & Anr. v. Union of India & Ors. [S.L.P. (C) No. 804 of 2017], IFF has advanced arguments about the need to preserve privacy of meta data even if the actual content of messages is encrypted. Meta data means data which describes or gives information about other data, and it includes information like which users do you chat with, how frequently do you chat with a user, which groups you are a member of etc. In many cases, meta data by itself can reveal very sensitive information about a person's life. For instance, consider conversations with sexual and reproductive health services which now provide abortion related counselling via WhatsApp.
Unlike in 2016, WhatsApp this time, did not provide an 'opt-out' option to its users, and even stated that a refusal to accept the 2021 privacy policy will result in a termination of a user's WhatsApp account, and users will no longer be able to use WhatsApp.

Final Arguments before SC sought to be delayed by WhatsApp
IFF is an intervenor in this matter, and we filed an application for interim directions and stay of the 2021 privacy policy. The matter did not come during the pandemic, and was listed after a long pause on September 29, 2022. Here, the Respondents, i.e. WhatsApp, Facebook as well as the Union of India, sought an extension of time for these proceedings on the basis that the government may enact a data protection law which may address the issues raised in these proceedings. In its order dated September 29, 2022, the Court had directed that one opportunity may be provided for a data protection law to be enacted, but that in the event such a law is not enacted, in the Winter Session of the Parliament, final arguments may be led before the Constitution Bench of the Supreme Court, led by Justice K. M. Joseph.
On January 31, 2023, the Respondents again sought an adjournment on the basis that a Digital Personal Data Protection Bill, 2022 (DPDPB 2022) has been prepared. The Ld. Solicitor-General of India stated that the present Digital Personal Data Protection Bill, 2022 (DPDPB 2022) will be placed before the Parliament in the 2023 budget session, and may be enacted by the time the session ends in April.
On February 1, 2023, the Supreme Court held that final arguments may proceed despite the existence of the proposed DPDPB 2022. However, counsel for Respondents stated that they may not be available for arguments on certain dates, owing to a schedule clash with matters placed before other Constitution Benches in the month of February 2023. Following which, the Supreme Court has agreed to defer hearing the matter until April 11, 2023.

In the interim, WhatsApp users may continue to use WhatsApp without accepting the 2021 policy
Upon insistence by Sr. Counsel Mr. K. V. Vishwanathan, appearing on behalf of the Internet Freedom Foundation, an intervenor in this matter, the Supreme Court has ordered that in the interim, WhatsApp must publicise that users of Whatsapp who have not yet accepted the privacy policy update of 2021, may continue to use WhatsApp without fear of their accounts being deleted. Sr. Counsel Mr. Shyam Divan, appearing on behalf of the Petitioner, supported IFF's stance, and made detailed submissions in support of an interim order.
This was on the basis of a letter dated May 22, 2021, where WhatsApp had provided an undertaking to the government stating the following:
Accordingly, the Hon'ble Supreme Court was pleased to order that WhatsApp will abide by the undertaking provided in this letter. The Hon'ble Supreme Court also extended the timeline for this undertaking until the next date of hearing, instead of the passing of a data protection law. The Court also directed WhatsApp to cause publicity for this aspect for the benefit of WhatsApp's users by taking out full page advertisements in five national newspapers on at least two occasions, where the advertisement must necessarily incorporate and communicate this stand taken.
However, this is only applicable to the users who have not yet accepted the 2021 privacy policy, and despite forceful submissions on behalf of IFF by Mr. Vishwanathan, the Court was not inclined to, at this stage, provide an opt-out option to the users who have already accepted the 2021 privacy policy.
We are deeply grateful for Mr. K. V. Vishwanathan, Sr. Adv. for appearing on behalf of IFF and advancing important constitutional conversations before the Constitution Bench of the Supreme Court of India. Mr. Vishwanathan was assisted by IFF's legal team Gautam Bhatia, Vrinda Bhandari, Abhinav Sekhri, Tanmay Singh, Ramya Dronamraju and Gayatri Malhotra.
We will be prepared for final hearings on the next date of hearing, i.e. April 11, 2023, and will keep you updated.

Important Documents
Video Recording of the Proceedings dated February 1, 2023 (link)
WhatsApp's letter to MeitY dated 22.05.2021 undertaking not to suspend accounts that have not accepted the privacy policy (link)