Supreme Court directs Central Government to reply to petition seeking comprehensive regulation of search & seizure powers for electronic devices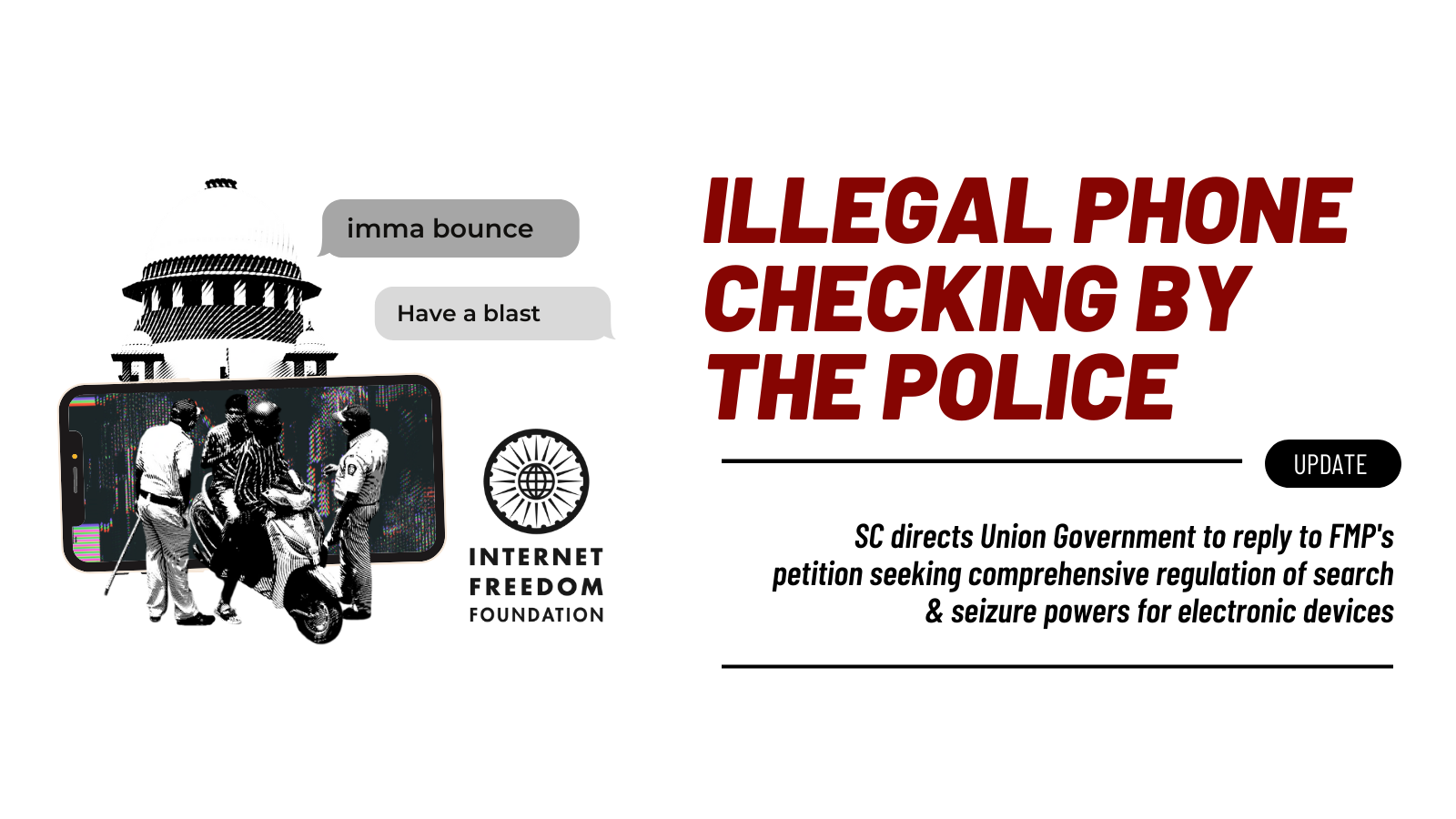 Tl;dr
In October 2022, the Foundation for Media Professionals ('FMP') approached the Supreme Court seeking regulation of the police's power to search or seize electronic devices. In the petition, they highlighted that existing laws do not regulate how authorities search or seize electronic devices. The lack of regulation enables them to engage in dubious practices, such as mandating individuals, with or without reasonable suspicion, to grant access to their mobile devices. The Supreme Court has directed the Central Government to reply to the Petition within 8 weeks. FMP was represented by Senior Advocate Siddharth Aggarwal. IFF provided legal support.
Why should you care?
In the past few years, instances of police stopping people on the street and forcing them to hand over their phones have become frequent. Similarly, police have also been using WhatsApp chats of those they arrest to keep them in custody. Often, these chats are not even related to the offence for which they have been arrested, and they even find their way to media houses. Since mobile devices are essentially an extension of ourselves, the lack of regulation on how they should be searched has enabled police to access troves of anyone's personal information to the detriment of their right to privacy. This state of affairs is particularly worrying for journalists who rely on digital devices to collaborate with sources and whistleblowers. FMP has approached the Supreme Court seeking a remedy for this situation.
Proceedings before the Supreme Court
On October 18th, 2022, a bench led by Justice K.M. Joseph issued notice in the petition and tagged it with an ongoing case titled Ram Ramaswamy & Ors. v. Union of India & Ors.. In that case, the Union Government has already filed a reply. Today, a bench of the Supreme Court comprising Justice S.K. Kaul and Justice A.S. Oka heard FMP's petition as well as the ongoing case. After hearing submissions from Senior Advocate Siddharth Aggarwal, appearing for FMP, the Court observed that the scope FMP's petition was more extensive than the ongoing case, since it raised issues relating to enforcement and investigation agencies beyond the police and sought comprehensive directions. The Supreme Court directed the Union Government to separately reply to FMP's petition. The Court also de-tagged FMP's petition from the ongoing case and listed it for a hearing in February 2022.
Summary of FMP's Petition before the Supreme Court
FMP is an association of journalists which has previously raised important issues which affect journalists before the Supreme Court, such as Sedition, Defamation and Internet Shutdowns. FMP in the present petition, a copy of which is available here, has argued that:
The existing legal regime does not regulate the power to search / seize digital devices: The power of law enforcement agencies to compel the production of material by search / seizure is provided under the Code of Criminal Procedure, 1973 (CrPC), as well as various special enactments which derive their basis from CrPC, such as Income Tax Act, 1961, Customs Act, 1962, Competition Act, 2002 and Companies Act, 2013. However, these provisions were enacted to permit the police to search / seize objects in the physical world. The gist of the general existing law is that 'documents' or 'things' can be provided willingly by persons in response to requests by police to provide the same. Alternatively, law enforcement agencies can intrude into a person's privacy by carrying out searches of 'places' and / or seizing 'things' or 'documents'. While the law requires police to obtain warrants prior to intruding on a person's privacy, this is subject to broad exceptions. In any case, and crucially, the power extends only to 'documents' or 'things' or 'places', none of which include electronic records.
Lack of regulation facilitates the violation of the right to privacy: Digital devices are unlike any physical objects as they contain a significant amount of deeply intimate data which could be more revealing about an individual's life than anything held at a physical place. The lack of specific regulation of search / seizure of digital devices enables law enforcement agencies to use the general law to access mobile devices. As stated above, instances of police stopping people on the street and forcing them to hand over their phones have become frequent. Similarly, it is also common for personal data in the custody of police to find its way to media houses, which liberally use private information to conduct media trials.
Need for Supreme Court's intervention: Considering the lack of regulations and the impact it has had on the right to privacy, FMP has approached the Supreme Court asking it to declare that persons should not be compelled to provide their password to law enforcement agencies. FMP also urges the SC to recognise that the legal regime of search and seizure does not cover search, seizure and access to contents of personal devices. FMP has also asked the Court to issue guidelines to fill the lacuna in the existing legal regime until a law is passed by the Parliament. The guidelines should state that:
Police should obtain a warrant before searching devices. The warrant should not be general, and it should set out the information the police expect to find on the device, with reasonable cause for such expectation.
Any application for a warrant should demonstrate to the judicial magistrate that it fulfills the proportionality standard, which means that- 1) obtaining evidence should be impossible by other means; and 2) state interests justify the high degree of violation of privacy.
Law enforcement agencies should be directed to put in place safeguards to ensure that the information they obtain is not leaked. They should also be directed to delete the information they collect once it is no longer necessary and such information should not be shared with other government agencies.
We are grateful to Senior Advocate Siddharth Aggarwal for appearing on behalf of FMP. He was assisted by Advocate-on-Record Rahul Narayan and Advocates Gautam Bhatia, Vrinda Bhandari, Abhinav Sekhri, Tanmay Singh, Vishwajeet Singh Bhati, Krishnesh Bapat, Natasha Maheshwari, Ramya Dronamraju and Gayatri Malhotra.
We are able to work on such important cases which seek to advance the right to privacy in the digital age only because of the support you provide. Keep us running by donating to us or by becoming a member.
Important Documents
Writ Petition filed by Foundation for Media Professionals. (link)