How to protect yourself from coercive Aadhaar-Voter ID linking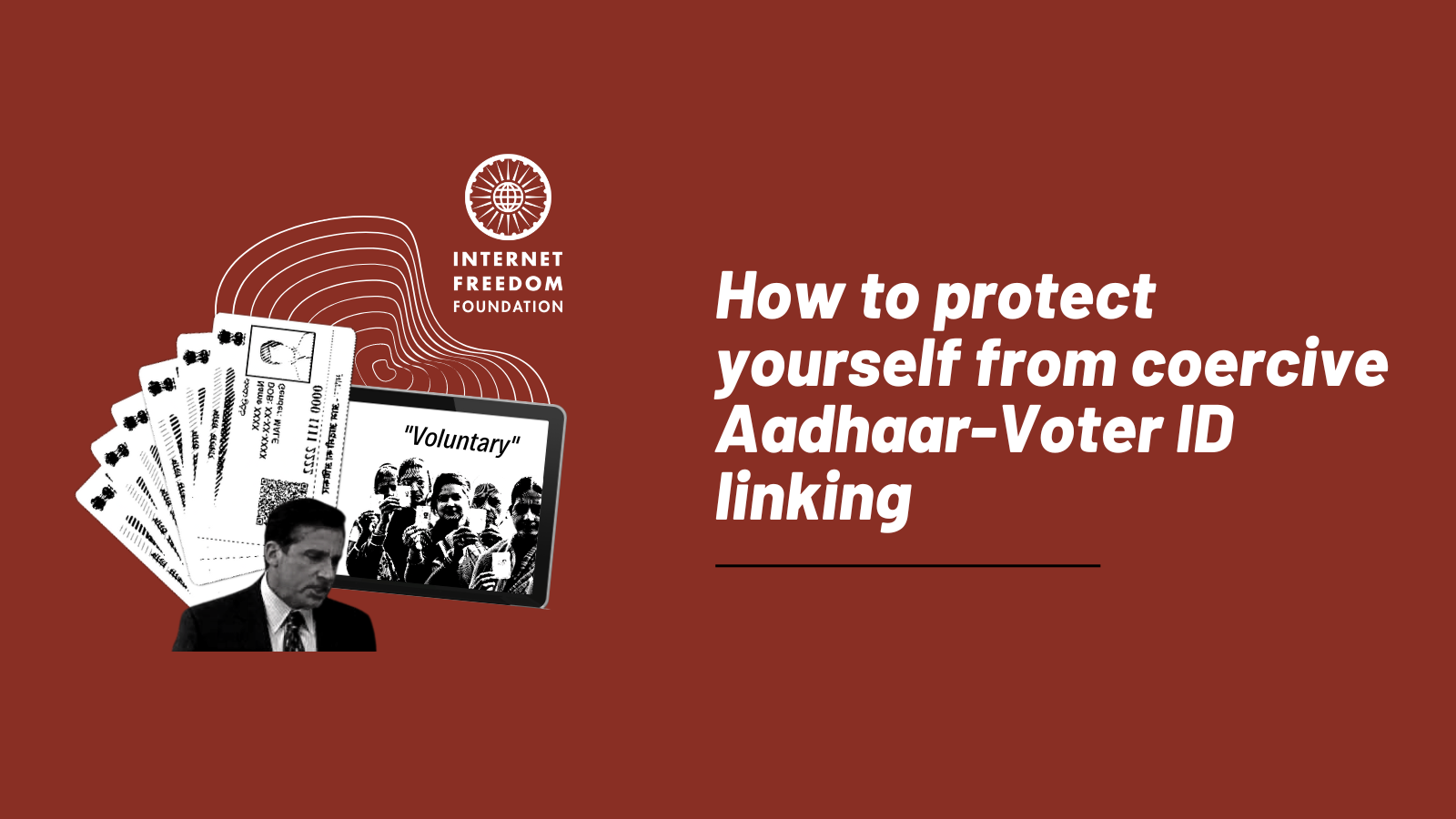 tl;dr
Is linking of your Voter ID with Aadhaar mandatory? NO! However, actions by government officials have caused confusion which has resulted in people being afraid about losing their voting rights. In this post, we unravel the quagmire surrounding this issue and provide you with an easy solution for the next time that an election official comes knocking on your door.
Background
On August 18, a Booth Level Officer (BLO) called an IFF staffer, directing them to give their Aadhaar number to link with their Voter ID, failing which they may be deleted from the electoral roll.
However, since the IFF staffer was aware that linking Aadhaar with Voter ID is not mandatory, they refused to share their Aadhaar number with the BLO. On digging deeper, the BLO provided the IFF Staffer with a letter dated August 12, 2022 which they claimed was the basis on which the name of the IFF staffer would be removed from the electoral roll if they did not share their Aadhaar number. As can be seen above, the letter clearly states that BLOs have to collect the Aadhaar numbers "voluntarily" from electors.
After we published this tweet thread shedding light on the issue, we received responses from the Chief Electoral Officer, Haryana and the Election Commission of India (On Saket Gokhale's representation). Both the responses state that submission of Aadhaar in Form 6B (Letter of Information of Aadhaar number for the purpose of electoral roll authentication) is voluntary.
Our Right to Information requests and responses received
Nonetheless, our concerns surrounding the issue continue to rise as reports of coercion emerged in Aadhaar-voter ID linking. As a result, we filed Right to Information requests with the offices of the CEOs for all 28 states and 8 Union Territories (UT) in India on August 23, 2022. In the table below, we have collated all responses received till October 27, 2022. Several of the RTI responses included the letter dated July 04 in the Annexure, which clarified the voluntary nature of this programme. Furthermore, multiple states/UTs in their response to our RTI request have reiterated the voluntary nature of this exercise. One such letter of significance was the RTI response received from the state of Sikkim. The response included a letter dated August 26, 2022, addressed to all the CEOs in the country, in which the ECI issued a clarification regarding the amendment to the electoral registration process (i.e., regarding the Election Laws (Amendment) Act, 2021). One of the queries listed in the letter read, "In cases where an elector deliberately conceals his/her Aadhaar number while applying for new enrolment in Form 6 and later on it is revealed that the elector possesses Aadhaar no. what action is required in such cases?" The clarification issued by the ECI on this query read, "Furnishing of Aadhaar for authentication is purely voluntary. Necessary instruction in this regard has been issued vide Commission letter no.23/inst./2022-ERS dated 04.07.2022, the same may be followed scrupulously."
| | |
| --- | --- |
| Name of Authority | Link to response |
| Assistant Electoral Registration Officer (AERO), Adarsh Nagar, Delhi | |
| AERO, Ambedkar Nagar, Delhi | |
| AERO, Ashok Nagar, Delhi | |
| AERO, Karawal Nagar, Delhi | |
| AERO, Kondli, Delhi | |
| AERO, Mehrauli, Delhi | |
| AERO, Narela, Delhi | |
| AERO, Sadatpur, Delhi | |
| AERO, Sangam Nagar, Delhi | |
| AERO, Seelampur, Delhi | |
| AERO, Seemapuri, Delhi | |
| AERO, Shahdara, Delhi | |
| AERO, Shalimar Bagh, Delhi | |
| AERO, Vishwas Nagar, Delhi | |
| AERO, Vishwas Nagar, Delhi | |
| AERO, Wazirpur, Delhi | |
| Chief Electoral Officer (CEO), Andaman & Nicobar Islands | |
| CEO, Andhra Pradesh | |
| CEO, Arunachal Pradesh | |
| CEO, Daman & Diu | |
| CEO, Gujarat | |
| CEO, Haryana | |
| CEO, Jammu, Jammu & Kashmir | |
| CEO, Jharkhand | |
| CEO, Kavaratti, Lakshadweep | |
| CEO, Punjab | |
| CEO, Shillong | |
| CEO, Sikkim | |
| CEO, Uttarakhand | |
| District Election Officer (DEO), Bandipura | |
| DEO, Doda, Jammu & Kashmir | |
| DEO, Shastri Nagar, Delhi | |
| DEO, Srinagar | |
| DEO, Udhampur, Jammu & Kashmir | |
| Electoral Registration Officer (ERO), Babarpur, Delhi | |
| ERO, Badli, Delhi | |
| ERO, Rani Bagh, Delhi | |
| ERO, Rithala, Delhi | |
| ERO, Rohini, Delhi | |
| ERO, Uttam Nagar, Delhi | |
What should you do if a government official asks for your Aadhaar for Voter ID linking?
A. Check if the election officer corresponding to your voting district has responded to our RTI request in the table above and show them the relevant RTI response ⬆️
B. Show them this thread ⬇️
C. Show them this infographic which succinctly explains the issue ⬇️